Haivision has just released their latest in reliable and legendary video over IP encoders. Introducing the Makito X4. For ultra-low 4K and HD video streaming over IP. The Makito X4 is a highly secure video encoder with exceptional video quality and next-generation performance. It also features SRT streaming and the highest available 4K UHD and HD encoding density. The Makito X4 is ideal for remote production and live broadcast.
The Makito X4 is ideally suited for interactive video applications such as live interviews as well as field contribution, backhaul and return feed confidence monitoring. The Makito X4 features SreamSync technology, unique to Haivision, making it possible to stream multiple cameras feeds over IP for synchronized multi-cam playback enabling remote production.


The Makito X4 provides quality, power, and flexibility for real-time HEVC/AVC video encoding in a compact or rack-mountable appliance. This new encoder is designed for the most demanding live video applications – this encoder can ingest full 4K UHD or up to four HD inputs with 10-bit pixel depth and 4:2:2 chroma subsampling, a type of compression that reduces the color information in a signal in favor of luminance data. This reduces bandwidth without significantly affecting picture quality.
The Makito X4 provides eight powerful encoding cores that can deliver low latency, multi-bitrate streams over any IP network securely and simultaneously. Offering native support for the SRT protocol making it ideal for streaming over unpredictable networks such as the public internet.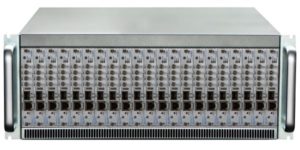 The small compact design of the Makito X4 makes it a portable appliance that is ideal for use on mobile platforms and in remote locations. But for centralized deployments, the Makito X4 blades provide the highest channel density available. Up to 84 HD or 21 UHD video sources within a single 4RU rack module.
So here's a quick rundown of what the new Makito X4 offers:
Full frame rate 4K UHD or quad HD support

Highest available encoding density – up to an amazing 84 HD or 21 4K sources encoded in a single chassis!

Exceptional broadcast quality video – HEVC/H.265 and AVC/H.264 live encoding supporting 4:2:2 10 bit color

Ultra-low latency – ideal for remote interactive applications such as live interviews and remote production/REMI

8 encoding cores – flexibility to deliver HEVC or H.264 streams at multiple bitrates to multiple locations