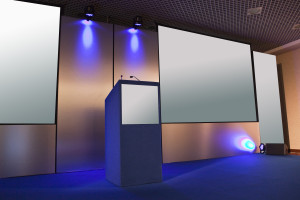 Regardless of the size of the event or meeting, there is one thing that can make it run smoother… AV solutions. It is a key element in making a meeting or event top notch. By utilizing innovative tech, you can reach a larger audience, make your information more visually interesting, and show your audience that your business doesn't fall behind the competition.
AV breathes life into a meeting or event. A technical team can make your life easy too, by being there every step of the way. Your message can be delivered to your audience in a more exciting manner. AV can provide not only better visuals, but also better sound! Imagine more effectively catching the eyes and ears of your audience.
AV solutions that go above and beyond give you the ability to think creatively. A meeting doesn't have to be led by someone reading off their notes (while coworkers check their phones under the table or struggle to stay awake). Think about it: an event is supposed to be entertaining. With AV solutions like ours, you can go above and beyond the audiences' expectations and make your presentation truly memorable.
There are tons of options when it comes to planning engaging AV solutions for your next meeting or event. An expert in this area can help you reach your goals and make your event or meeting a huge success. They can help personalize everything to fit the unique needs of your business. Start now with a free consultation.