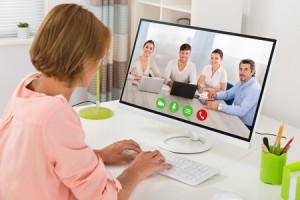 Many companies have satellite offices or remote workers. Video conferencing can allow you to connect with any of your team members. By seeing them face-to-face, you can improve communication. When you talk on the phone or over email, you lose a few important elements: body language and facial cues. But, as you know, it can be difficult at times – and also inconvenient – for everyone to meet in person. That's where video conferencing comes into play. It allows anyone to meet and discuss, without losing important keys in effective communication. Plus, it helps the employees grow as a team because it fosters teamwork and discussion.
You can also save on travel expenses. Flights and hotel stays can get costly. But video conferencing allows an employee to do much of the work remotely. They can share screens, or even assist with a project. Plus, there is no delay, because you're not waiting for the employee to arrive on site.
There are several solutions for video conferencing. If you're ready to get started, you can contact us and we can help you choose a demo to try out. We offer anything from cameras, equipment, insulation, and a simple, downloadable service. We can also offer an affordable hosted solution. This option will allow 25 people to connect from any device from each virtual room.
Find out more by contacting us today. We'll help you find the solution that works best for your business.