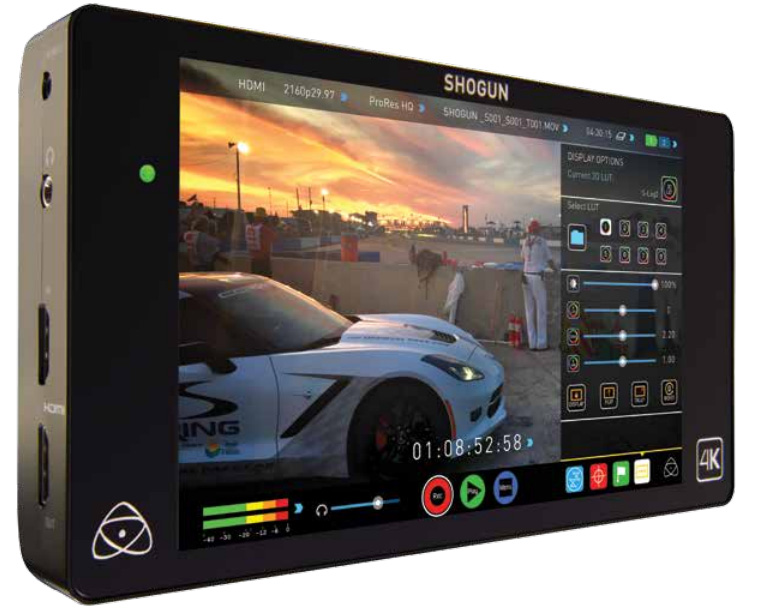 The Atomos SHOGUN has been a getting some very good reviews. The SHOGUN is proving to be a great tool and has some advantages over what's available. Here is some basic information about this exciting new product.
RECORD 4K, HD AND RAW* DIRECT TO HOLLYWOOD EDITING STANDARDS Record direct from the camera sensor to your choice of Apple ProRes, DNxHD/DNxHR or RAW* in 10-bit 422 quality onto affordable media options. Based on the camera's output the Shogun can accept and record up to 4K 30p and HD 120p over HDMI or 12/6/3/1.5G SDI. The creative recording options are impressive as well with multistep scheduled time lapse recording and pre-roll recording to ensure you never miss a shot. Use anamorphic de-squeeze monitoring to allow for those using 2x, 1.5x, 1.33x and even Panasonic 8:3 Anamorphic solutions. * Raw to ProRes/DNxHR recording available for Sony F700 & Sony FS7. REVIEW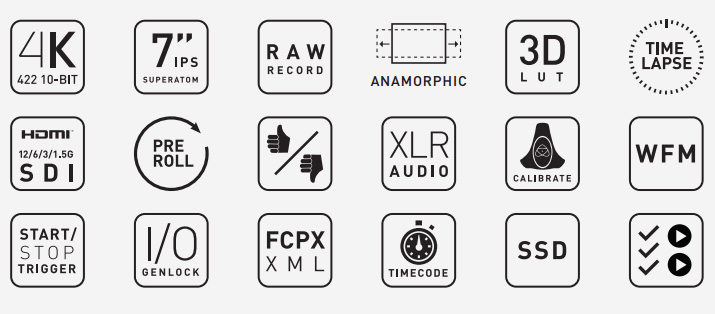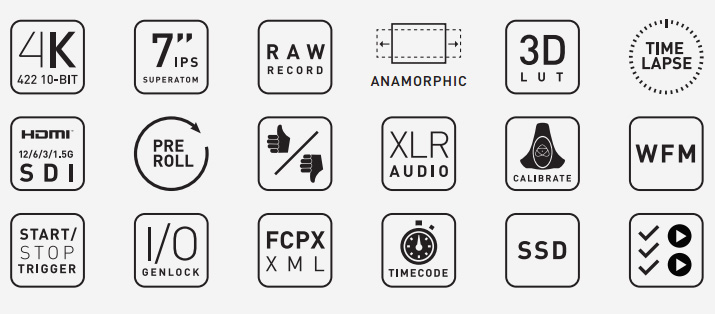 INSTANTLY ON SET Full playback controls allow collaboration on set to review content the moment it's captured, using the full suite of monitor tools on screen or out to a larger HDMI or SDI monitor. Our playlist feature makes reviewing rushes and favorite scenes even easier and with 4K to HD down scaling you can connect with HD monitors, wireless transmitters and Atomos HD recorders. THE WORLD'S
MOST ADVANCED AUDIO AND VIDEO MONITOR A stunning 7.1" 1920 x 1200 320ppi IPS screen makes Shogun perfect as a director's monitor. Shoot more accurate colors with class leading 3D LUTs that can be viewed on screen, out to a monitor or burned into the recording. There's 2:1/1:1 zoom for critical focus, waveform, focal assist and an optional Spyder calibration unit. It's the perfect tool for perfect creative shot setup.
METADATA TAGGING AT POINT OF ACQUISITION Save time in post by tagging your captured content the moment you review on set. Mark Favorite/Reject, create a custom playlist, add meta data tags and even cut in/out points. Save them out as an XML on the Shogun and drop straight onto the timeline of your favorite NLE.
For questions or to order, please call 801-999-8552 or email us at info(at)philmgear.com