What used to be utilized only in the most sophisticated buildings and businesses is now being implemented everywhere. We are seeing digital signage in restaurants, hospitals and outpatient buildings, on college campuses, in hotel lobbies, in training rooms and throughout businesses. The list goes on. The question that comes to many of us as we see the changes around us to this form of media and communication is, why is this replacing our printed signs and posters?  The answer is quite simple, there are so many benefits to using digital signage.
Purchasing a one-time printed announcement may seem the more cost effective method, but in the long run, it is the slow, dated version of what's now available. In addition to the inconvenience of having to manually change the print media form of public communication, we have to continuously invest over and over as information changes.
Here are a few of the benefits of digital signage:
1. Dynamic content. Digital signage offers dynamic content in replacement of printed media. Content that can include a variety of messages in one viewing, making the information displayed come to life. We've all seen the magic of good presentation, now imagine that in a simple "sign" displayed for all to see.
2. Simple content control. Changing out your message is no longer a process. Simply go into your digital signage system and change the message. This is a simple and very dynamic way to reach a target audience, such as different locations within a corporation. For example, you would want something of a welcome message or logo displayed in a lobby, then perhaps information on an upcoming project displayed in the conference room, and information displayed about an upcoming all-hands meeting displayed throughout. This also can be done on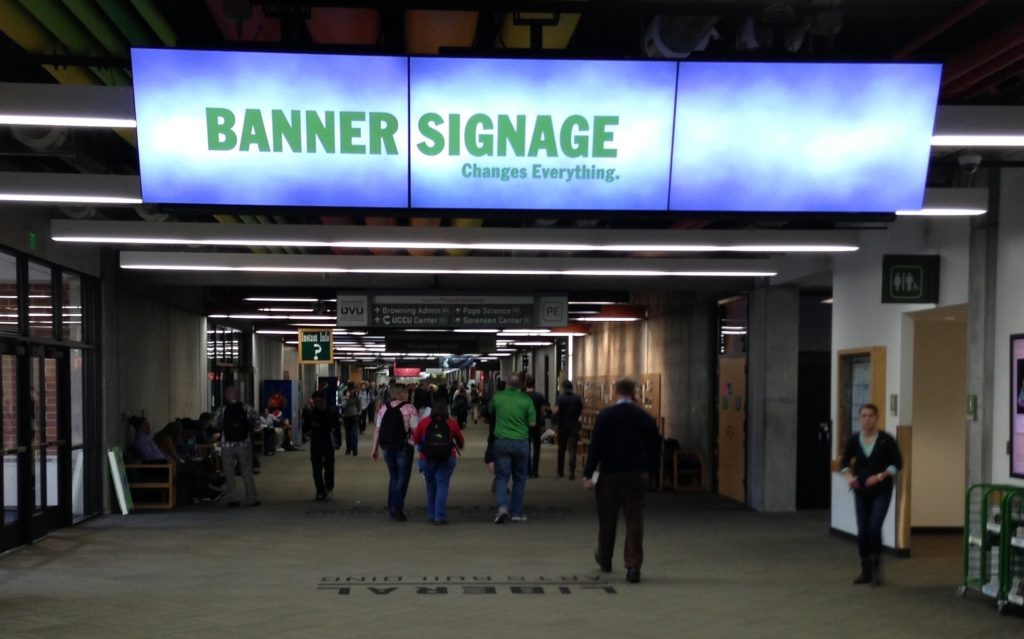 college campus, hospitals and small businesses.
You don't need a big budget to afford this technology. With the variety of options available, it is pretty simple to come up with a setup that suites you and your organization's particular needs.
3. Audience engagement. Multimedia-based communication simply creates a more engaging experience. It's no longer about one poster or announcement, it's about multiple messages, consistent content and a richer viewing experience. The content is not valuable unless it grabs the audience's attention. Digital signage will do that and more.
4. Sustainability. Thankfully, our culture is ever searching for better ways of doing things, less wasteful ways of doing things. Illuminating paper waste from signs and announcements is another viable way that businesses and organizations can decrease waste.
5. Delivering important information in real-time. This is an extraordinary benefit and one that can sometimes be overlooked. But let's say something has happened and it is critical to get a message out to everyone. This is as easy logging in and changing the message. The information is displayed instantaneously.
These are just of few of the benefits. With affordable options available, we have no doubt that we can help you with your own digital signage setup.