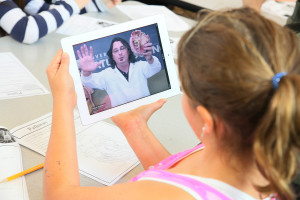 Long gone are the days when a professor rolled in the cart with the VCR player and a boxy TV. Although they had their time in the sun, we've come a long way since then. Now classrooms have advanced audiovisual technologies available to them.
Generations are now growing up with high end tech, and information available at the touch of a button on their personal computers that they carry with them everywhere. From their mobile phones, they can pretty much do anything. With this technology always readily available, students are relying on tech to get answers. They have come to depend and expect the latest tech. It can streamline things and make learning more interactive.
There are plenty of options available to schools too. Digital signage across the grounds can make it easy to display important information from school events to news items. Projectors can deliver content in high resolution and make for more entertaining and even interactive learning. Remote learning has also become much easier with AV technologies, which is especially great for colleges that want to offer online classes. You can do live broadcasts of lectures and stream media. There are several ways that education can utilize AV technologies to advance classrooms and campuses. These technologies can improve engagement and make learning fun.
Want to learn more? Stop by our website or give us a call for a free consultation at 801-999-8552.